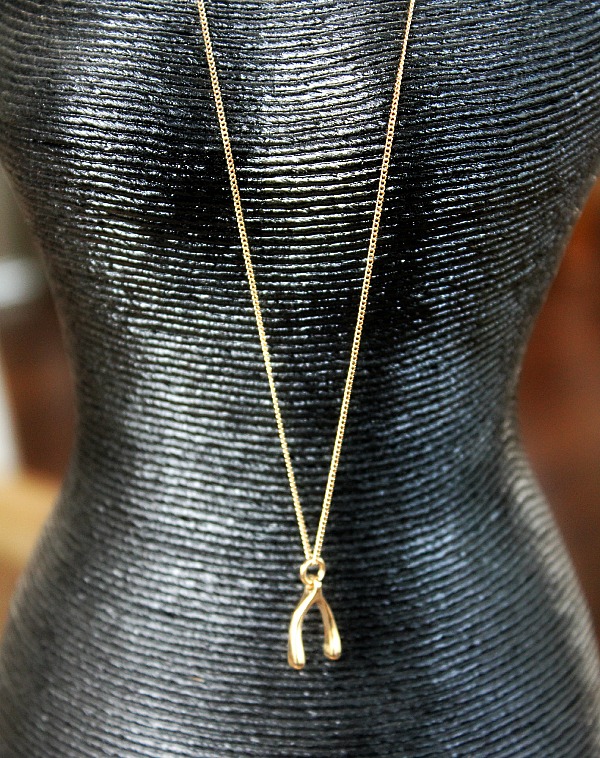 This little wishbone necklace makes me smile. I bought it at a consignment shop in Newtown, Connecticut while visiting my good friend Amy.  Wishbone necklaces had been popping up randomly (maybe it has something to do with google target marketing)  and I'd been toying with purchasing one. You can find a ton of them on Etsy.  What I love about this one though is that it's hand made by a local artist and whenever I wear it, it reminds me of my visit with Amy.  A lot of things have changed since Amy and I met over 10 years ago, but I know we will always remain friends.  I'm grateful for my friendships both near and far and it brings me joy when I have the opportunity to get together with friends.  Technological advances like Facebook, texting and emailing are great time savers, but they don't come even close to actually spending time with someone in person.
The wishbone also reminds me of a Thanksgiving tradition my family had growing up.  My mom or dad would always save the wishbone from the turkey and then we argued over who got to pull on the bone.  It wouldn't be a holiday without some arguing. According to Wikipedia in 15th century Europe the wishbone was thought to be able to predict the weather.  I guess it was like the groundhog of today.  Nowadays, the wishbone is presumed to grant wishes.  You make a wish and the person that breaks off the larger piece of the bone will have his or her wish granted.  I don't think any of us bought into the good fortune part, we just wanted to pull the wishbone.  When you're a kid it's the little things that bring you joy, like who gets to ride shotgun in the front seat of the car.
I hope all of your wishes come true this holiday season with or without a wishbone and that you find joy in the little things!